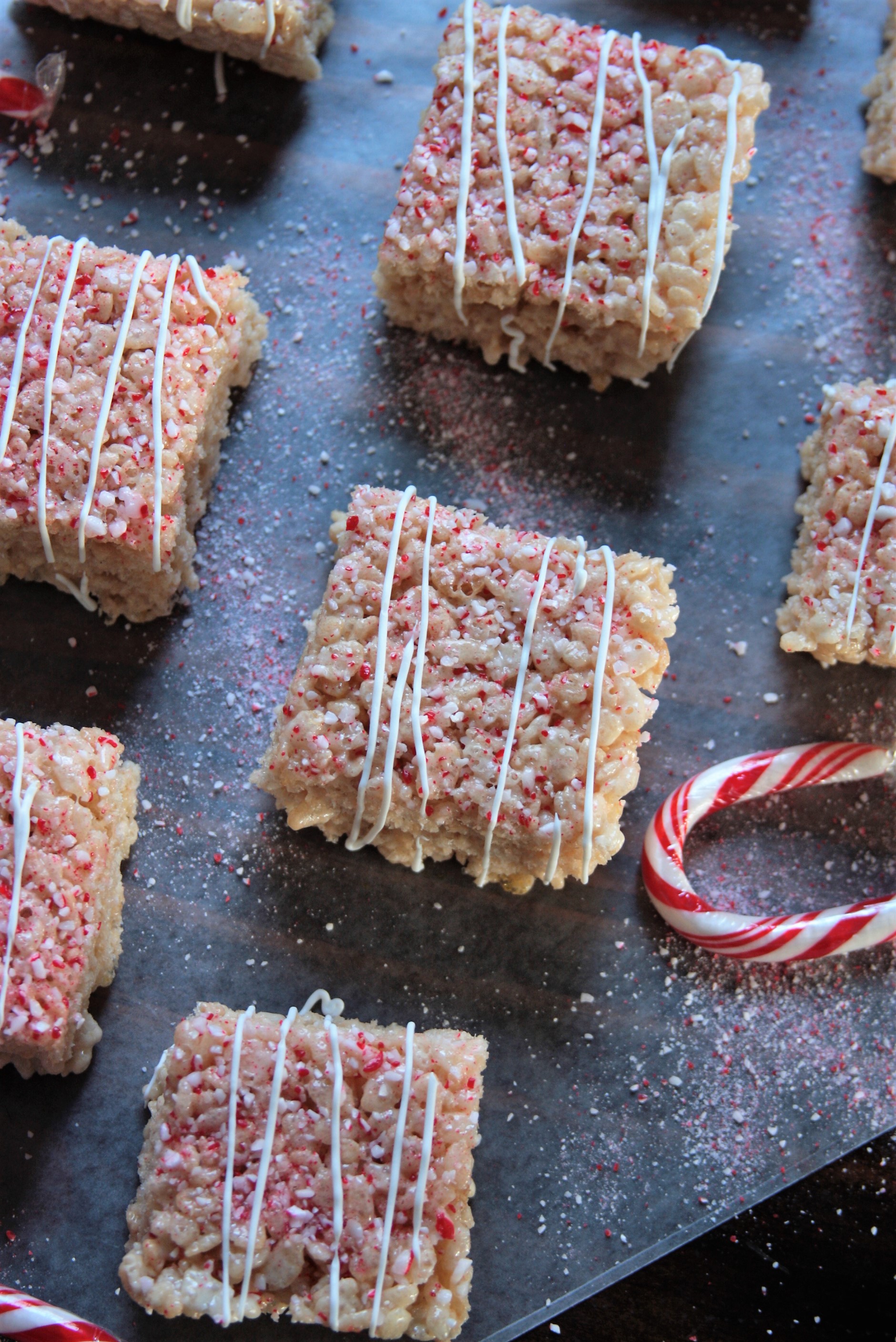 Happy Holidays!  Ok, so the holidays may be over but that wonderful, sugary afterglow certainly isn't.  At least it isn't in our house.  We still have a giant bowl of holiday candy we've been working through for the past few weeks and I'd be willing to bet a few of you have a similar candy filled container taunting you from somewhere in your house.
Candy canes are one of those things that inevitably ends up in said bowl every year.  While I do love peppermint, for some reason I'm just never super excited about eating the candy canes.  I love the way they look because they're so bright and festive.  I've even used them to decorate our Christmas tree in the past but I'm more of a chocolate or pastry girl.  Unless that peppermint flavor is surrounded by dark chocolate, it's never going to be my first pick.  I hate wasting them though, so what do you do with all of those beautiful leftover candy canes?  Make rice crispy treats, of course!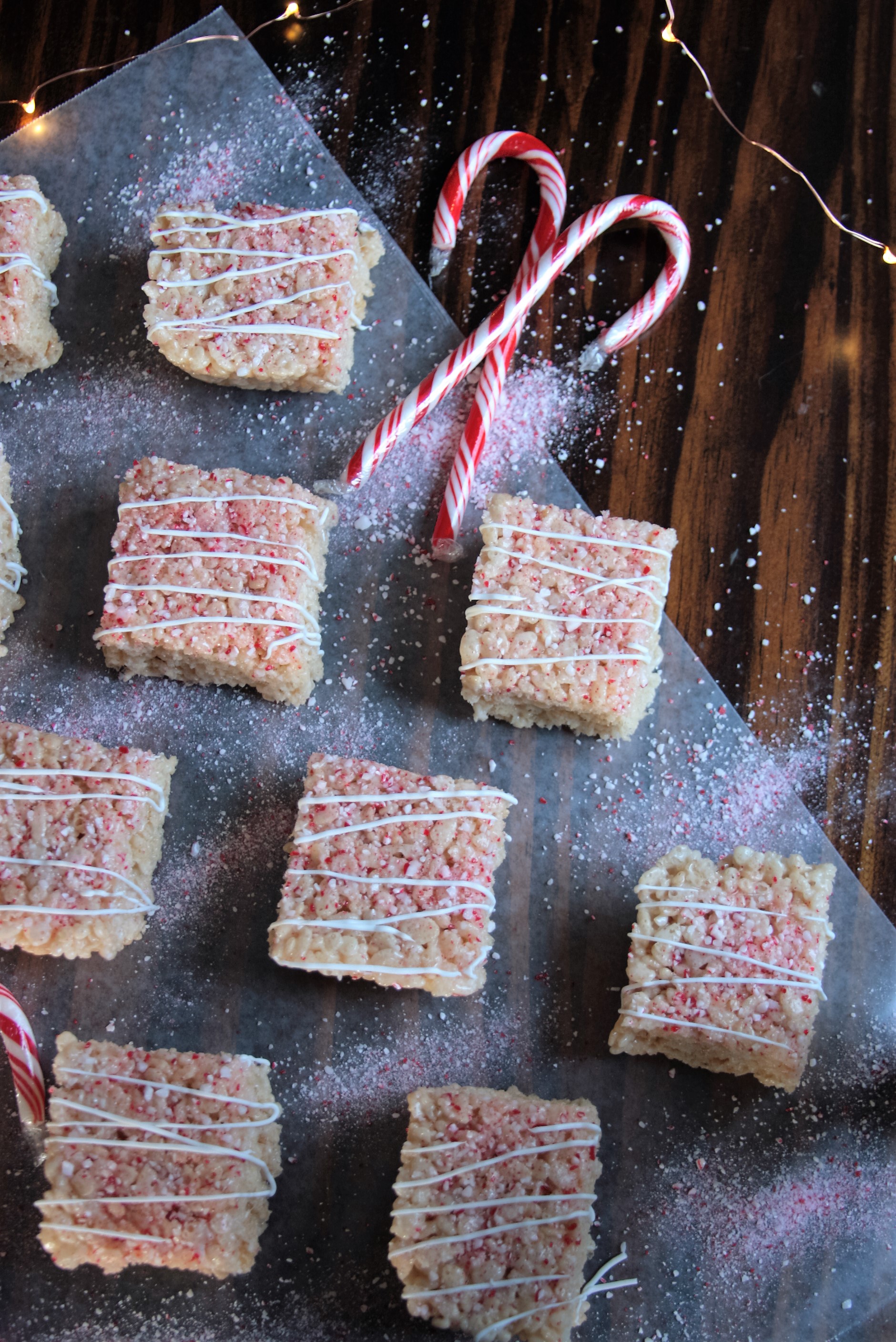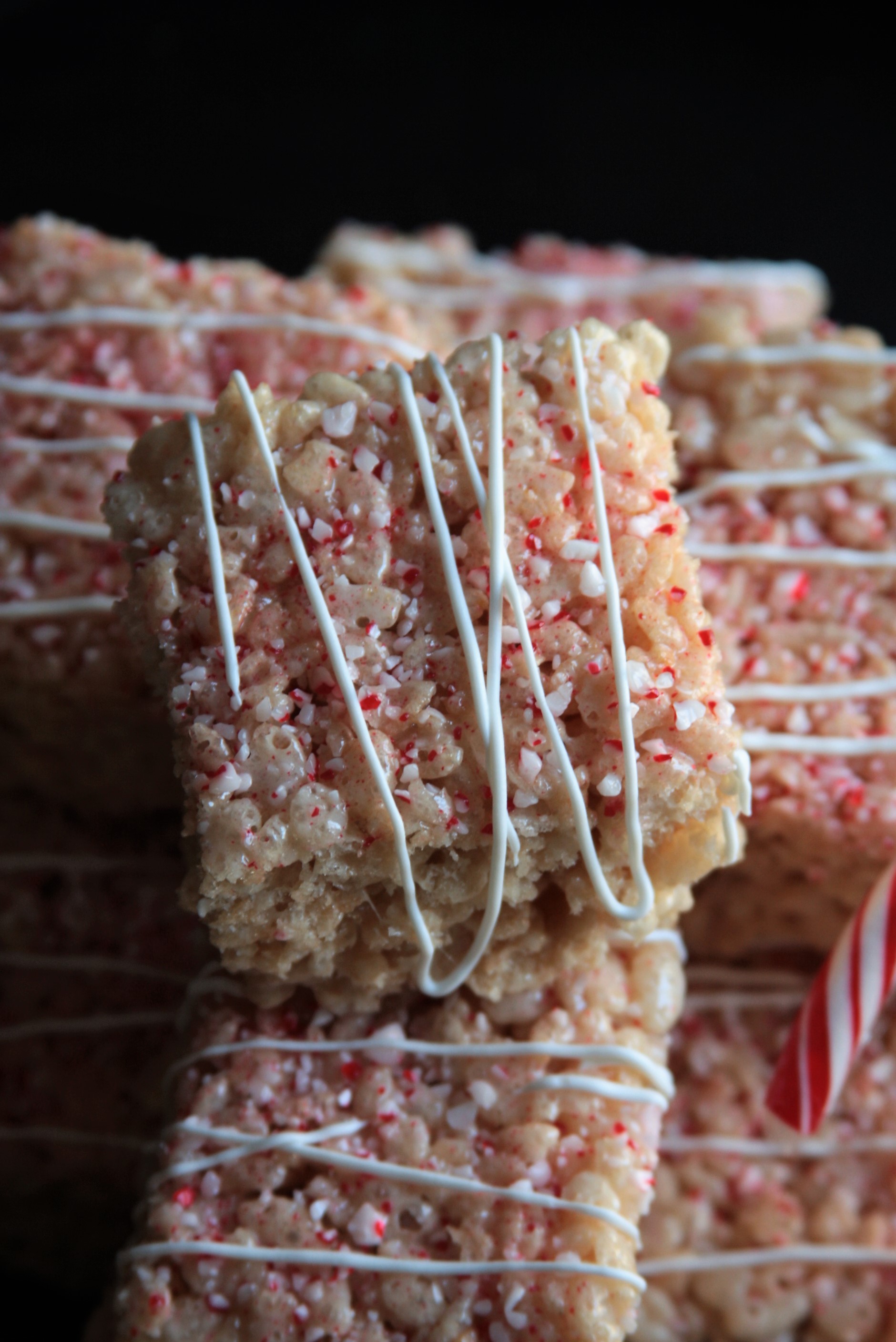 You don't really NEED any sort of special equipment to make these, but a mini food processor makes the job of chopping up your candy canes much easier.  I have the Cuisinart Mini-Prep Plus and I use it much more often than you might think if you don't have one.  I'll admit that there are often a few months at a time when I don't use it, but even if you only use it half a dozen times a year, the effort it saves me is worth the thirty bucks.  I'm not sure if it's supposed to be dishwasher safe but other than the motorized base, I've always put all of the pieces in the dishwasher and other than a slight clouding of the plastic from the heated drying cycle, it's held up perfectly.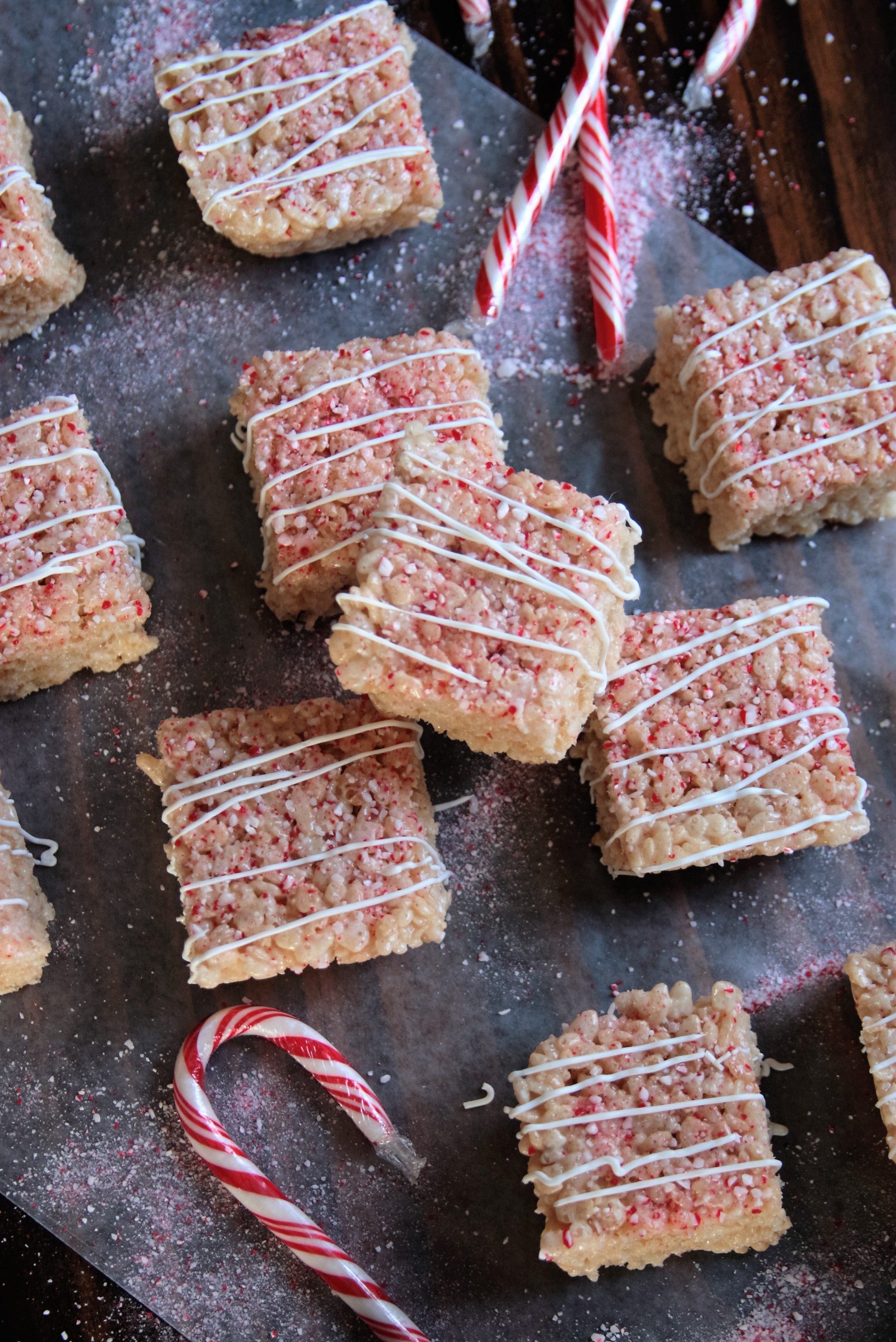 Alternatively, you could put your candy canes in a thick (freezer style) ziplock bag and smash them with a hammer/bottom of a pan.  You won't have as much control over the size of the pieces but it'll get the job done.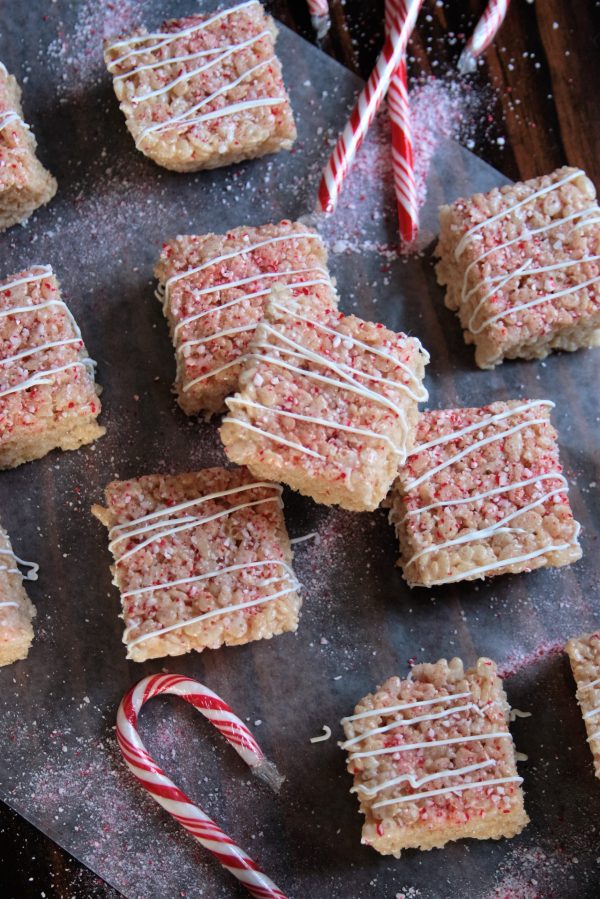 | | |
| --- | --- |
| | |
Break up candy canes and add them to a food processor. Pulse until desired size. You want the pieces small enough that you wouldn't break a tooth on them but big enough that you can still see the separation of white and red. If you chop them for too long you'll be left with a pink powder. Still pretty, but not what we're going for.

If you don't have a food processor, you can put the candy canes in a thick freezer bag and smash them with a hammer, bottom of a pan, etc. until the desired size is reached.

Grease an 8x8 pan. In a large pan over medium heat, melt the butter. Reduce heat to medium-low and add the marshmallows, stirring occasionally once they begin to melt.

Once the marshmallows are melted, stir in the extracts. Mix in cereal until completely coated.

Pour mixture into 8x8 pan. Grease a spatula or back of a metal spoon and use it to press the mixture into the pan, leveling it out.

Sprinkle the crushed candy cane over the top of the treats. Press them down into the treats with a greased spatula or metal spoon.

After the treats have cooled, cut them into your desired size. I usually cut 3x3 or 9 treats with an 8x8 pan. Place the treats on a sheet of wax paper or parchment paper. Spread them out so there is space between each. You want the candy coating to be able to drip down the sides between each treat.

Melt the candy melts according to the package instructions. Snip a tiny corner off of a sandwich bag, or make a piping bag with parchment paper, and use it to drizzle the candy coating across the treats. You could even just dip a spoon in the melted candy and use that to fling lines across the treats if you don't mind them looking a bit messier.
You can also use a 9x13 pan for thinner treats. (Mary 😉 )
For additional tips on how to get super soft treats every time, see my previous post here.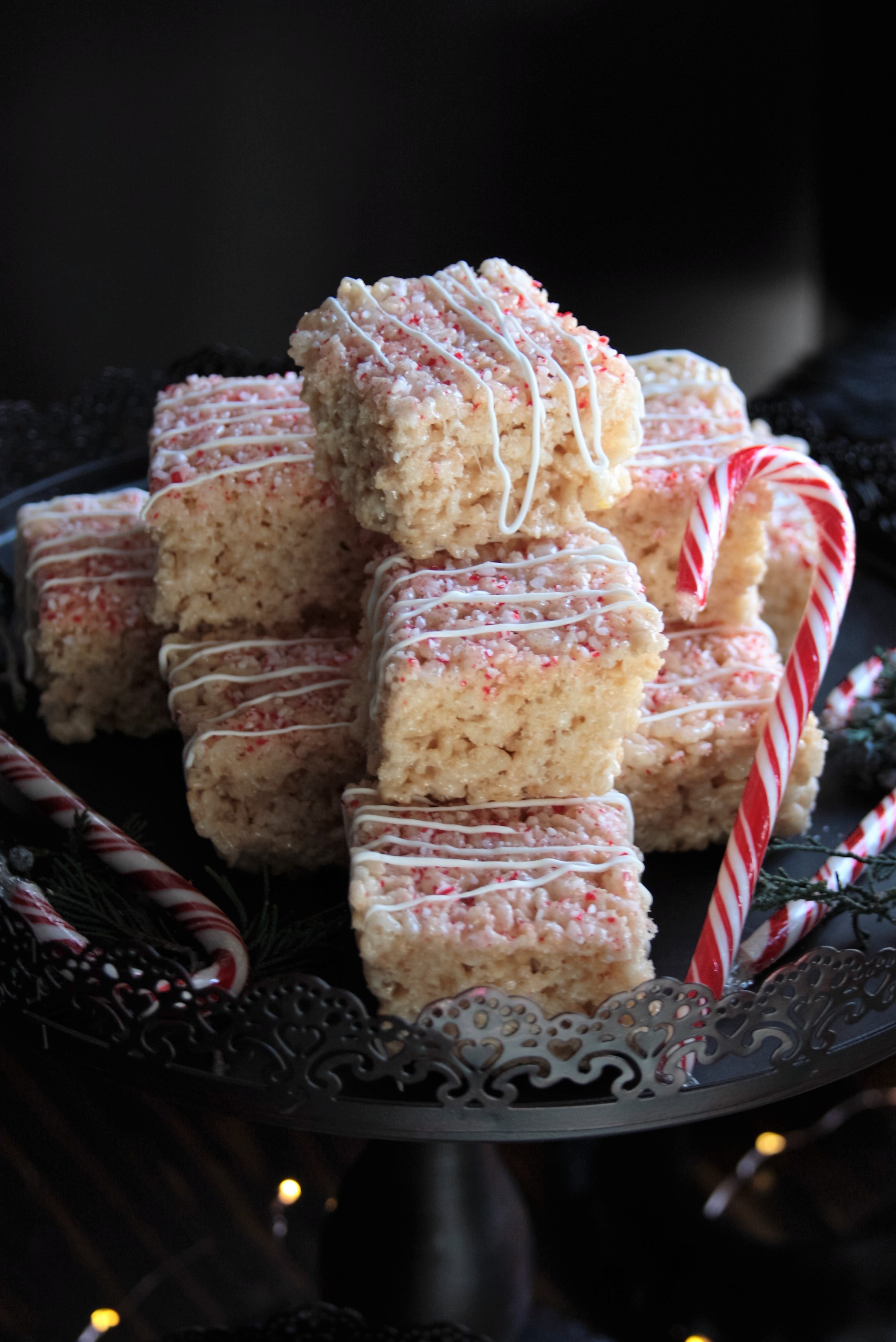 So what do you think!?  Do you have any go-to recipes to use up your leftover holiday candy?  Or are you a purist and prefer to eat candy in its natural state?  😉  Comment below!