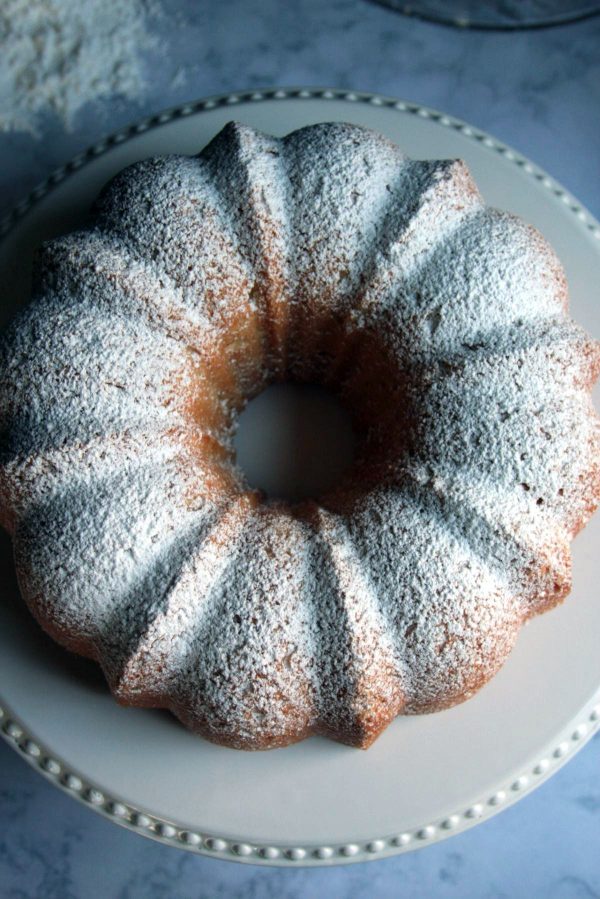 You didn't think you were going to get away with just one pound cake recipe this week, did you?  ;P
My Grandma Noreen baked a vanilla pound cake that will forever be the standard by which I measure all other pound cakes.  Of course, even when using her recipe, it is never quite the same.  I may never know her special tips and tricks that made it oh so perfect, but I can certainly put my own spin on it and make my own version in honor of hers.  If I'm ever able to find an original copy of her recipe, I'll be sure to post a pic of it here.
I created my chocolate pound cake from her recipe partially because I didn't want to even attempt to recreate her vanilla pound cake, knowing full well it would never measure up.  Ultimately though, I created this blog to document the recipes and projects I love so both I and others can refer to it weeks, months, years down the road and recreate them time and time again.  It simply wouldn't make sense for me to leave out a cake that I have such fond memories of as a child.  It's a simple, buttery and elegant cake that is dear to my heart, and I hope you give it a try and enjoy it too.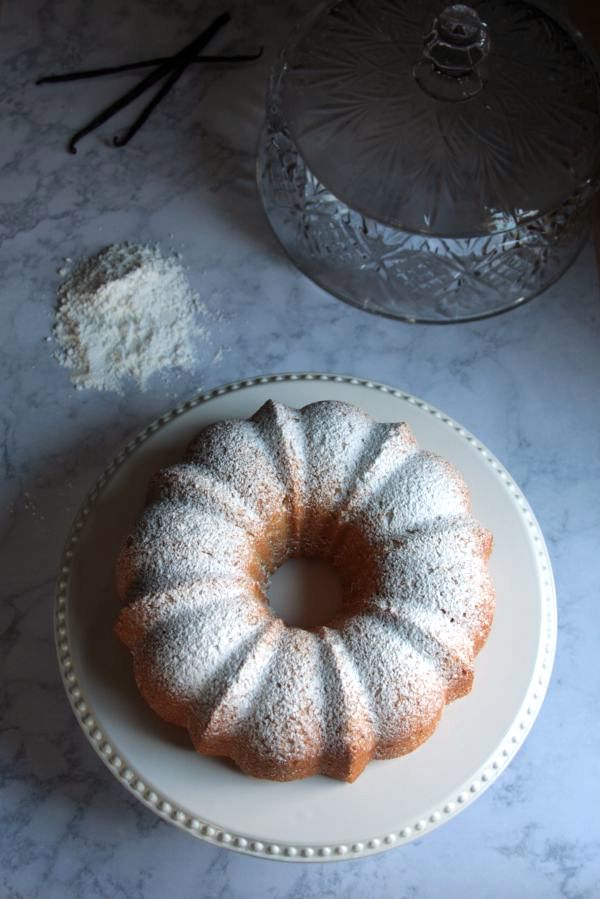 While attempting to recreate this cake, there was the question of what type of "butter" she was referring to in her recipe.  Hard core bakers would probably say "It absolutely must mean unsalted butter.  Different brands of butter have slightly different amounts of salt, so you should always use unsalted butter so you can control the amount of salt in the recipe."  This is true, but the recipe didn't call for any salt, so if I used unsalted butter, you'd lose a huge chunk of that buttery flavor.  It'd be like eating unsalted butter on bread or biscuits.  It's just not the same.  Seeing as how this recipe is pretty much all about the butter, I knew that didn't sound right.  So I did what I always do when I want to be absolutely sure of something.  I experimented.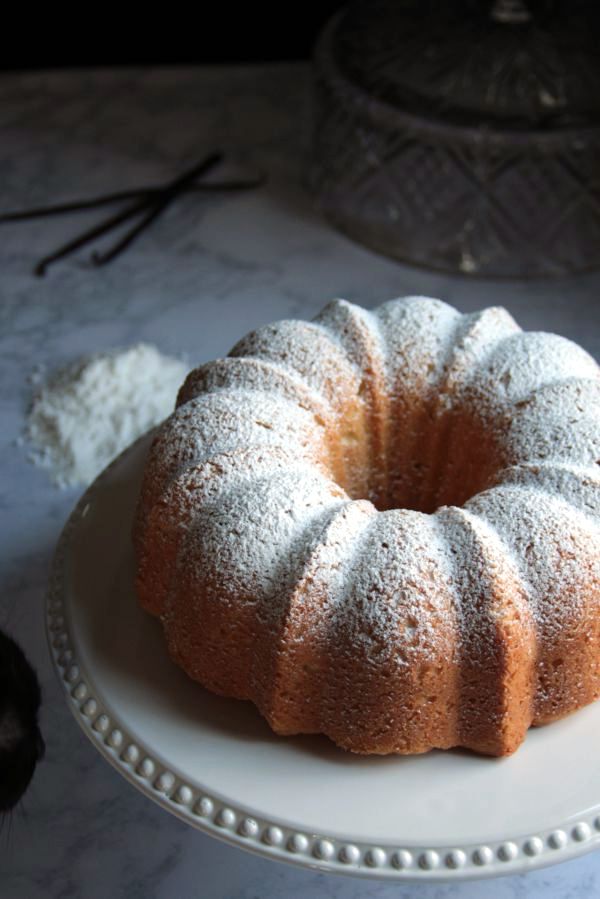 Side note: Did you catch the little invader in the pic above?  That's our 14 year old cat, Lennon, trying to steal the spotlight.  He often tries to drop in on the food photo shoots and I often like to use some of the photos he's snuck himself into.  Kind of like The Speckled Door's version of Where's Waldo.  Keep your eyes peeled when reading the posts and see if you can catch him!  😛
Back to cake.  I made this cake three times…well…I've made it a lot more than that, but for the purposes of this experiment, I made it three times.  Once with salted butter, once with unsalted butter and no additional salt, and once with unsalted butter and added 1 1/4 teaspoons of salt, which is roughly how much a pound of salted butter would contain.
I know all of the avid bakers out there are going to cringe as they read this, but the one I made with salted butter tasted the best. My wheels have been turning and I've developed a whole theory as to why I think this is, but I could go on and on about it so I'll save that for another post.  Does anyone else have theories as to why this could be?  Bottom line: I'm writing the recipe with salted butter but I'll note the amount of salt to use for the die-hard unsalted butter users.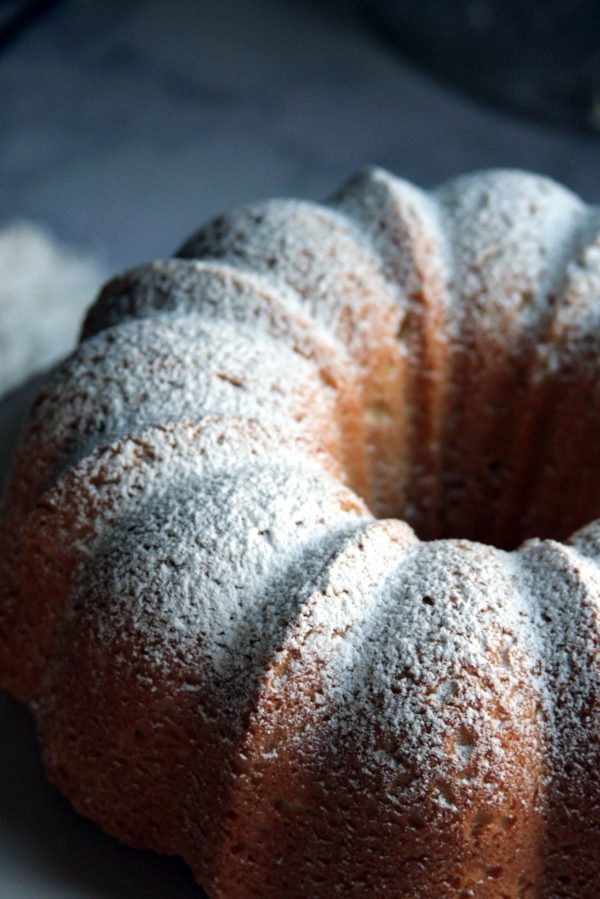 I'm calling this a "real" vanilla pound cake because I use real vanilla beans, not extract, and there is really a pound of butter, pound of sugar, pound of eggs and pound of flour. No substitutions or reductions here. 'Tis how it was meant to be in all of its buttery glory. I hope you enjoy it!
Preheat oven to 325 degrees.

Add the butter and sugar to the bowl of a stand mixer fitted with a paddle attachment. Start on the lowest setting until they combine so you don't coat your walls in sugar. Then, increase the speed to high and beat for a full 4 minutes. This should be long enough so the butter is light and almost white in color but not so long that the butter starts to warm up and melt. The air you work into the butter is the main source of rise in the cake so this step is crucial to get right. Scrape down the sides of the bowl as needed.

With the mixer on medium speed, add the vanilla bean seeds and then the room temperature eggs, one at a time, scraping down the sides of the bowl as needed. After each addition, mix until the egg is fully incorporated. When all of the eggs were added, I turned the mixer back up to high for another minute. This is the last chance you'll have to work air into the batter. If your eggs are cold, the butter will seize up and you'll lose all of the air you just worked into it. The eggs must be at the same temperature as the butter.

Fold the flour into the butter mixture. I actually turned the mixer on low, slowly poured the flour in, but turned off the mixer before it was completely incorporated and finished folding it in by hand. You don't want to knock any air out of the butter. Mixing the batter too much after the flour is added can not only knock all of the air out of your butter, but it can also give your cake a chewy or dry texture. Fold with care!

Grease and flour a 10 cup or larger bundt pan, or two loaf pans. I tried out PAM cooking spray with flour (the spray has flour already in it, I didn't add flour after spraying it) and I was surprised that the cake came out clean every time. Don't spray it until right before you add the batter or it will have time to slide down the sides of the pan. Otherwise, you can grease and flour as usual.

Carefully pour the batter into the prepared pan/pans. Leave at least an inch of space for the cake to rise.

Bake on the middle rack for 50-60 minutes or until the cake doesn't jiggle and a skewer inserted in the center comes out with no wet batter. There may be a few moist crumbs.

Cool in the pan on a cooling rack for 10 minutes, then remove from pan to finish cooling.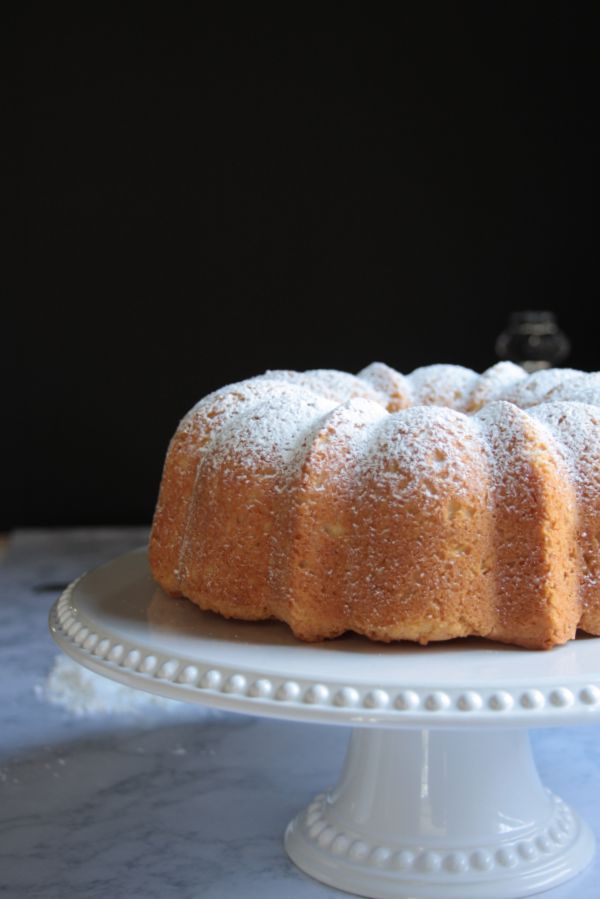 What do you think, salted or unsalted butter?  What cherished recipes do you remember from childhood?  What are some of your other favorite flavors of pound cake?  Comment below!