To add beans or not to add beans?  That is the question.  Along with thirty other questions when it comes to chili.  Apparently, almost nothing about chili is set in stone.  Where was it invented?  Who invented it?  Who has the best recipe?  Should it have beans?  Should you garnish with cilantro?  The closest answer we may have for the first two questions can be found on the International Chili Society site.  It maybe isn't an answer as much as it is information and lore about what the answers might be.  As far as I'm concerned, everything else surrounding chili will likely be eternally up for debate.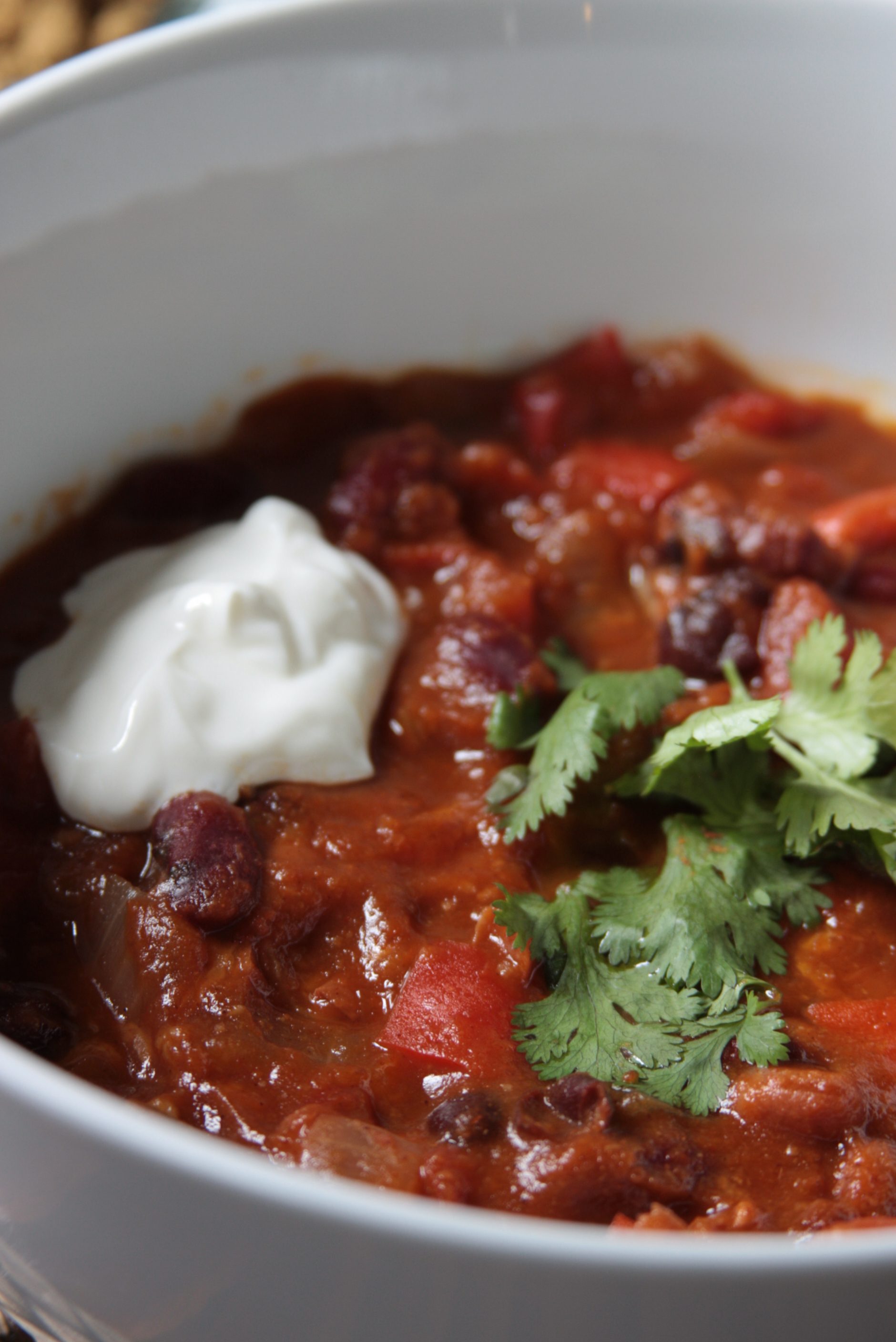 From what I can gather, traditional chili probably did not have beans in it.  Nowadays, however, even when you buy chili in a can, you can get it with or without beans.  So regardless of how it started out, and so long as you're not serving it to a chili purist, putting beans in chili is acceptable.

Then there's cilantro.  Did you know there is a percent of the population who is genetically predisposed to hate cilantro because it tastes like soap to them?  They estimate 4-14% of people have this gene.  That's crazy to me!  I know I've heard this factoid before but it became a reality when one of our game night friends recoiled at the suggestion of putting cilantro on her curry because she said it tasted like soap to her.  Then, shortly after that, we were listening to an NPR podcast (TED Radio Hour "The Five Senses" from January 20, 2017) and they noted this cilantro statistic when talking about the relationship of genetics to taste preferences.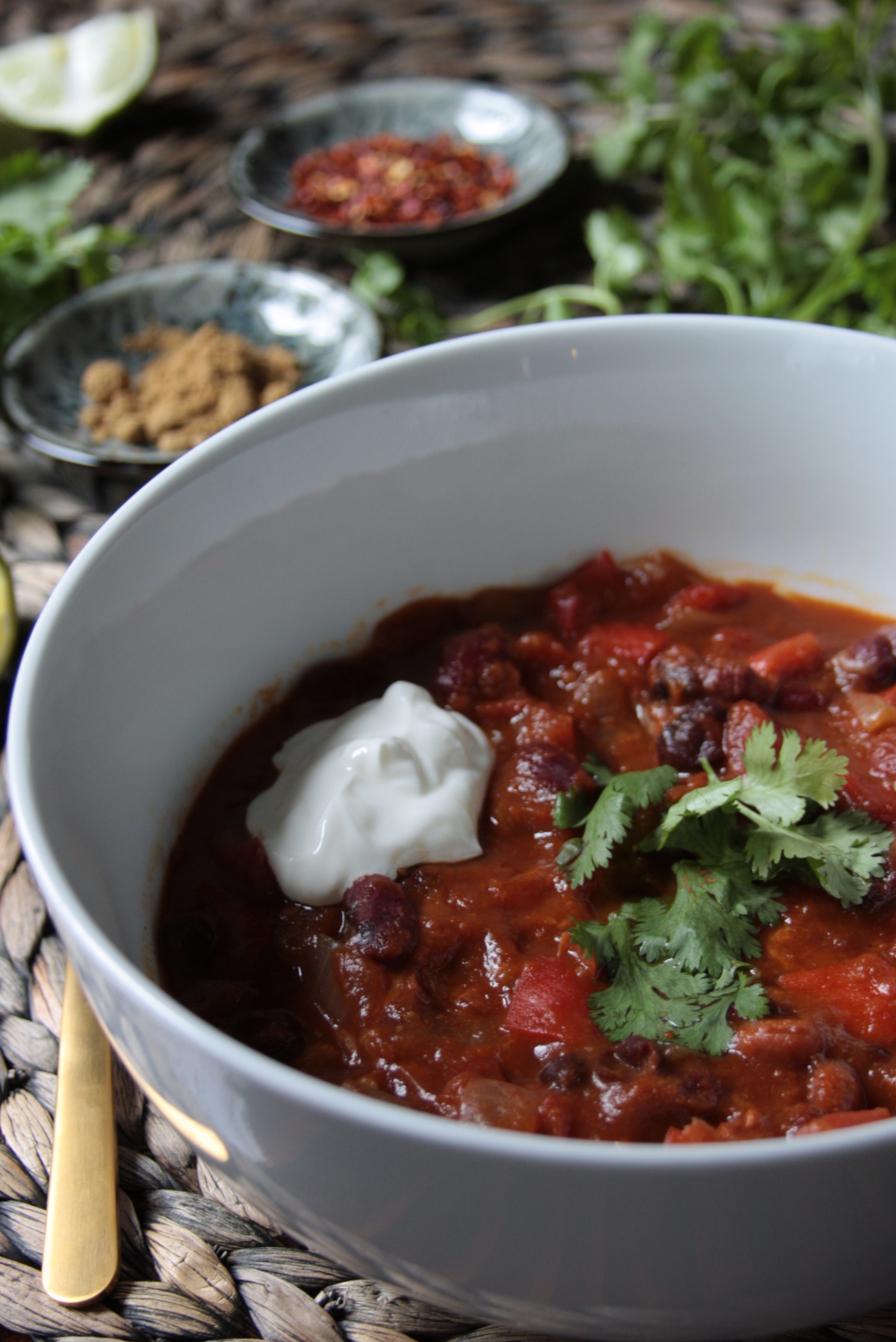 Side note: I'd like to take a moment to thank my parents for not giving me the "cilantro tastes like soap" gene.  I LOVE cilantro and I don't even want to imagine a life with cilantro-less salsa.
Back to the chili.  As far as cilantro and chili goes, I think it's delicious as a garnish but knowing this crazy cilantro information, best to keep it as a garnish on the side and let people decide if they want to add it themselves.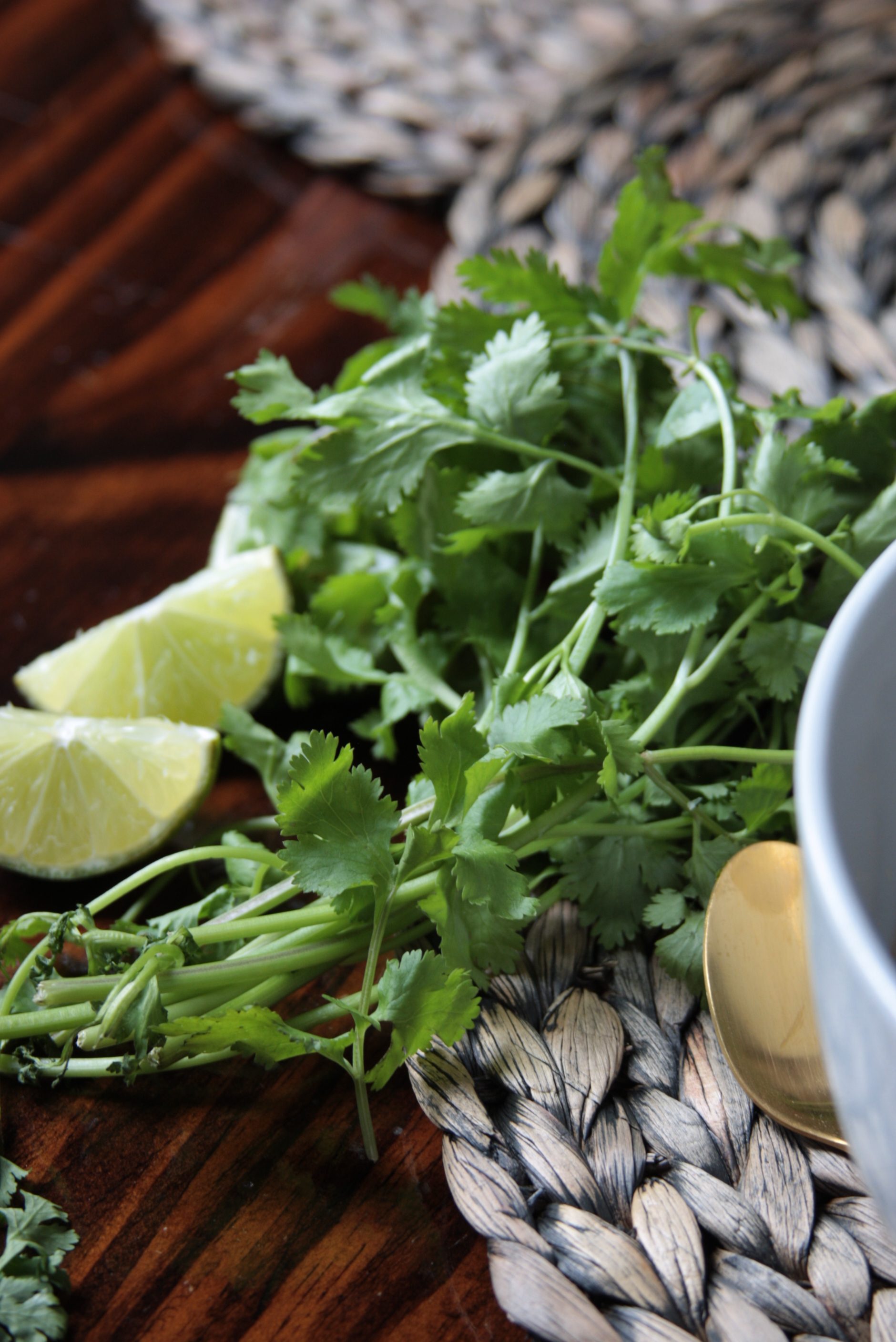 There are probably a dozen other aspects of chili you could argue about.  Ultimately though, I don't want to argue about chili,  I want to eat chili, and over the years, we've eaten A LOT of it.  I don't think I've ever made the same chili recipe twice.  Even if I'm reading from the same recipe I've used before, I always tweak it a bit just to see what happens.  That's one of the glorious things about chili.  It's very forgiving and some of the craziest things can put its flavor over the top.  Have you ever put cocoa powder in chili?  Worcestershire sauce? Coffee?  Maple syrup?  We've tried them all, plus a lot more.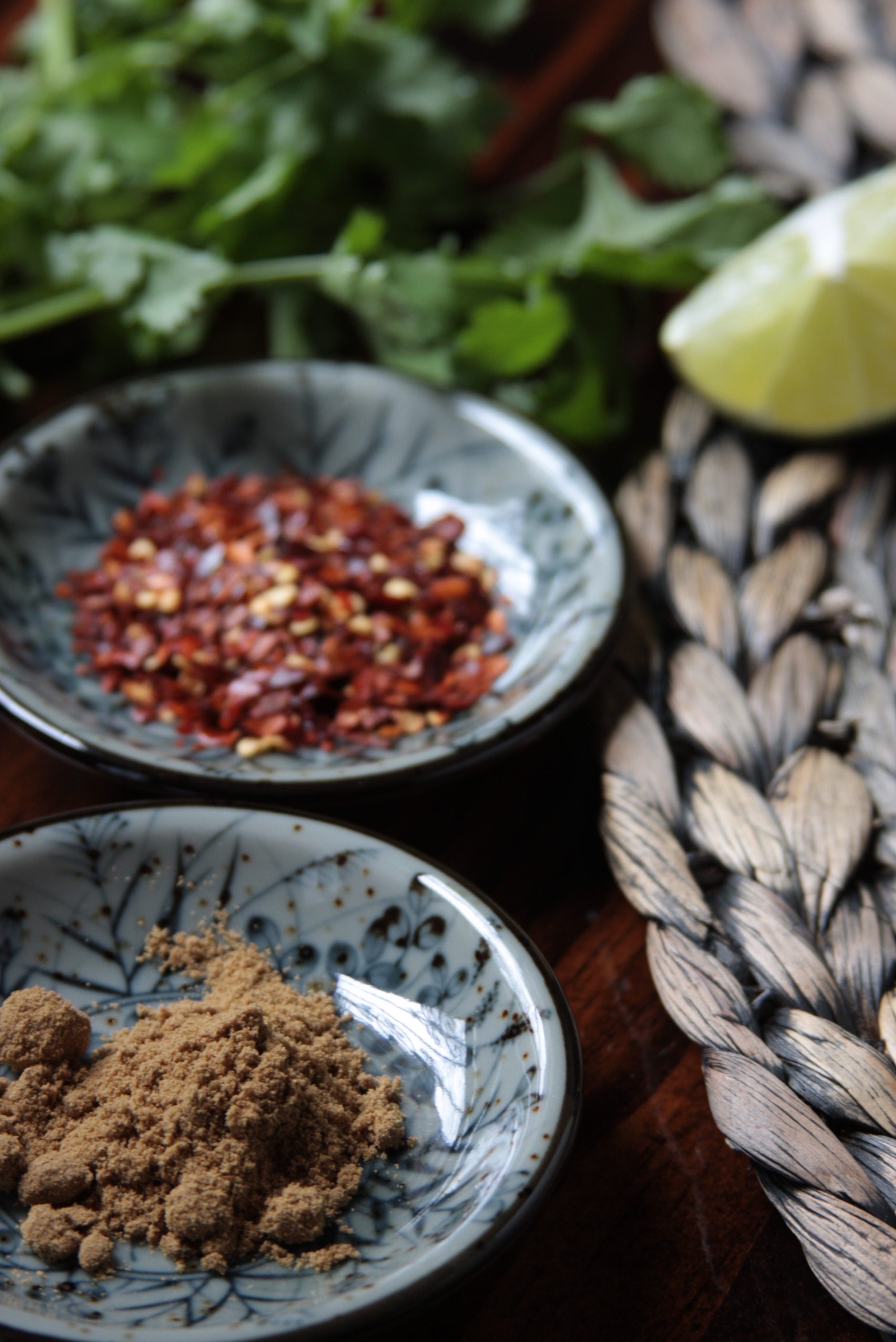 One last thing.  This recipe doesn't HAVE to be made in the crock-pot.  You could easily saute the onions and garlic, cook the meat, add the vegetables until they start to soften, then add the remaining ingredients and stir everything together until hot.  I'm just of the mind set that if you can make it in a crock-pot, you should.  Seriously, every time I'm researching recipes, especially recipes for game night, the first thing I do is think "can this be made in the crock pot?".  It just makes life so much easier.  In the winter, it gives you a hot, hands-off meal.  In the summer, it prevents you from having to turn on your oven and heat up the house.
There are a lot of recipes that will have you cook several things separately, then add them to the crock-pot.  For instance, saute the onions, then add them to the pot.  Or cook the meat, drain the fat, then add it to the crock -pot.  To me, the whole point of using the crock pot is that I only have to dirty one pot and THE CROCK POT DOES THE COOKING FOR YOU.  Why the heck would I cook everything separately, then put it in the crock pot?  I might as well just add everything to the pan I started cooking in and finish cooking it myself.  Sure the onions and garlic will saute properly and have a better flavor if cooked separately but that isn't enough for me to dirty another pan.  Sure it'd be healthier to cook the meat separately and drain the fat off before adding it to the pot but again, not worth dirtying another pan for and I've never heard my husband complain there was too much bacon flavor in his chili.  😉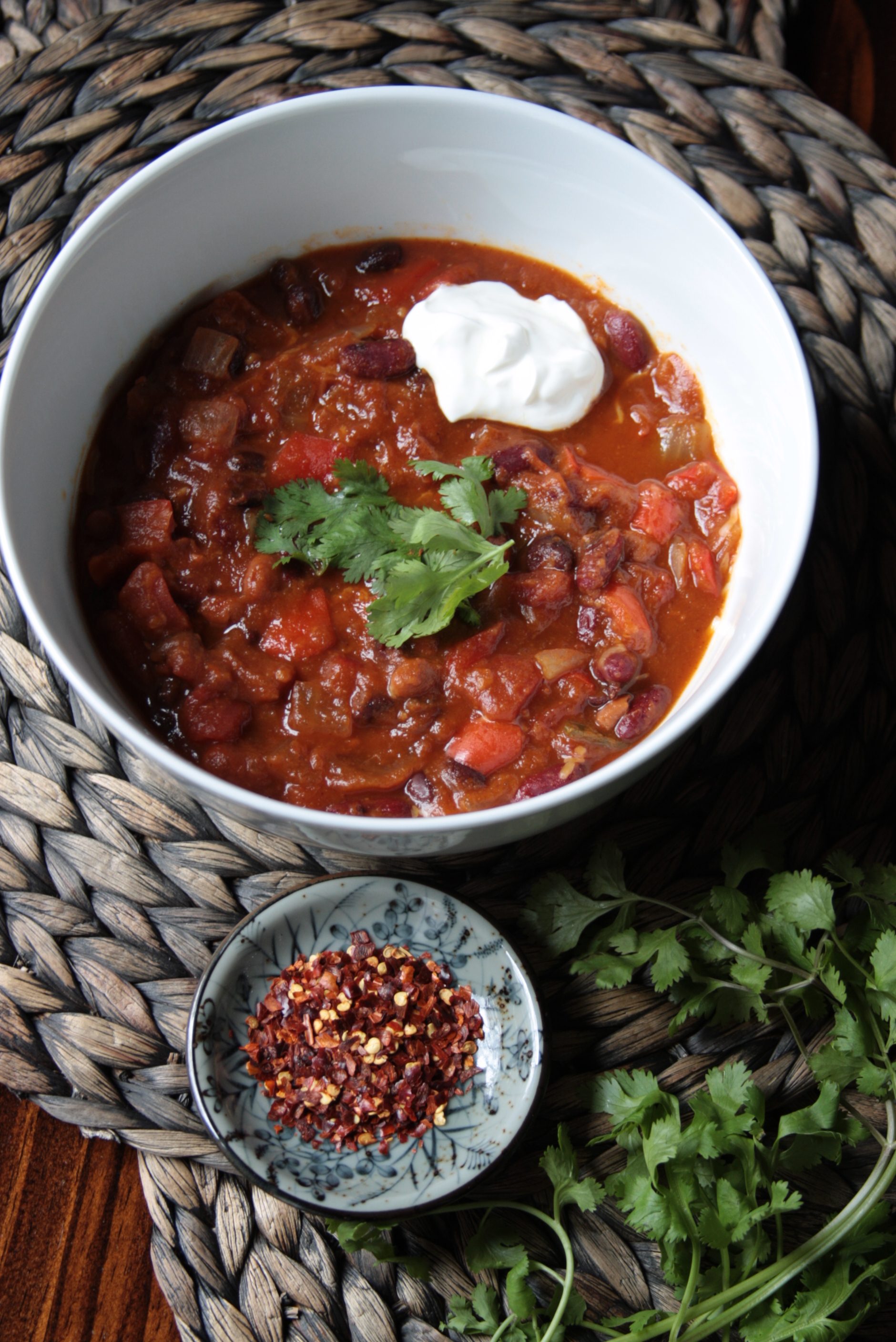 The recipe below has become my go-to base recipe.  It gives me somewhere to start each time and as-is, it's a pretty healthy yet super hearty meal.  If I want it spicier, I add more chili powder or different chopped up chilies.  If I want it thicker, I use less liquid.  If there is some crazy ingredient I want to try, I throw it in there and wait to see what happens.  There has never been a time when I altered something and it left the chili completely inedible.  It may not have turned out to be our favorite, but it was still good chili.  Like I said, very forgiving.
Add the oil, onion and garlic to the bottom of a crock-pot. You want these on the bottom so they sort of saute down there.

Add remaining ingredients on top along with whatever other ingredients you want to experiment with. If using meat, be sure to crumble the meat up as you add it. Don't just throw the slab of meat in there. Do not mix yet. Again, you want the onions and garlic to stay against the hot bottom of the pot for a while.

Cook on low for 4 hours or high for 8 hours. About halfway through cooking or when the mixture heats up enough to be bubbling, stir everything together thoroughly.

Heat settings vary on every crock-pot so if you're using meat, be sure your pot is getting hot enough to cook the meat through thoroughly.

Serve with your favorite toppings!
How many different versions of chili have you tried?  What's the craziest ingredient you've ever put in your chili?  Beans or no bean?  Comment below!