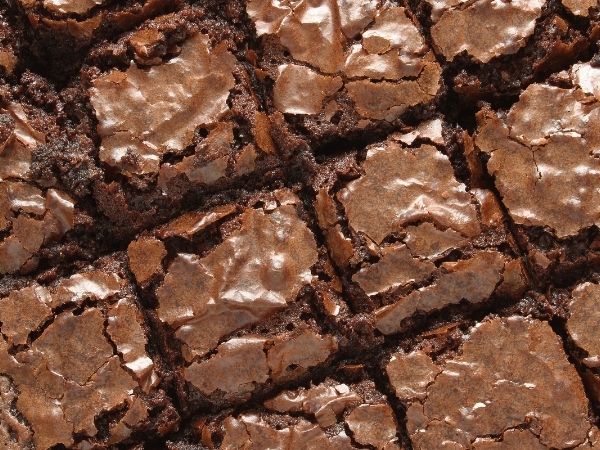 Realistically, I'm gonna have to go back to the original goal of this blog which is to have a place to keep all of the recipes I've worked on so I don't have to find saved links and combine them with the adjustment notes I have on post-its all over the place. So probably just bare recipes will be posted from here on out. If anyone other than me finds them helpful, great!
Dark Chocolate Fudgy Brownies
This will probably forever be a work in progress to find the most perfect proportions of every ingredient, but this is the closest I have (so far) to the fudgiest most chocolatey brownies I can produce. 🙂
Ingredients
113

g

salted butter

1/2 cup

3

oz

unsweetened baking chocolate

bar

168

g

granulated sugar

about 3/4 cup

2

eggs

room temperature

1/2

tsp

vanilla extract

can sub vanilla bean paste

3

oz

semi-sweet chocolate bar

chopped. I use 60%.

34

g

All purpose flour

1/4 cup

1/2

tsp

salt

I use fine grain Himalayan pink salt, but any fine grain salt will work
Instructions
Preheat oven to 350 degrees

Grease an 8×8 clear baking dish with cooking spray. (I actually use a 9×7 because that's what I have, but you could also use a 9×9, the brownies will just be a little thinner so reduce the cooking time a bit. You can also use butter and flour or parchment paper in place of cooking spray. If you use a metal/dark coated pan, the edges will come out a little crispier and the brownies may cook a bit faster so keep an eye on them.)

Melt the butter and unsweetened chocolate together over low heat in a medium saucepan.

Remove from heat and stir in the sugar until fully incorporated.

Add eggs and vanilla and stir until smooth. Then let cool slightly. You don't want any of the chopped chocolate to be able to melt in it.

Add chopped chocolate, flour and salt and stir just until combined.

Pour into prepared pan and tap pan on counter or your hand to level it out and knock out any bubbles. This helps with the fudginess. I usually do this for about a minute.

Bake for 30-40 minutes or until your preferred level of doneness. I like there to be a few wet crumbs that stick to a toothpick inserted in the center. If you wait until the toothpick comes out clean, the brownies won't be as fudgy by the time they cool.

This is going to sound like insanity but if you have the patience, these are actually best on day 2. When the brownies are still slightly warm, cover them tightly in the pan and let them sit overnight. The next day, they're perfectly set and suuuuper fudgy.
Notes
Note to self: bottom oven, convection, 350 degrees, 30 minutes.