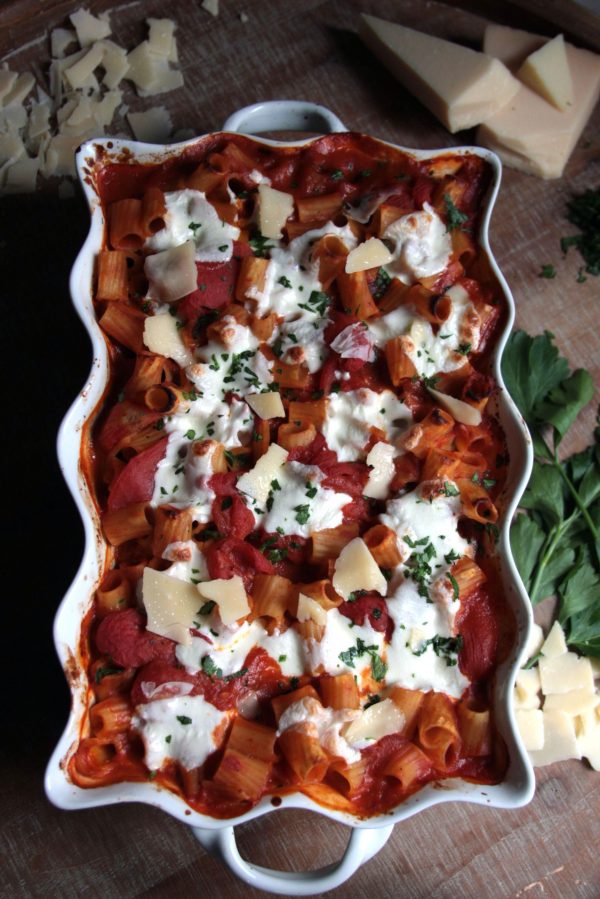 As if pasta weren't easy enough already, this recipe makes it even easier!  Plus, how can you say no to baked, bubbly, melted cheese?  You simply cannot.
I'm a big fan of recipes that don't require you to clean excessive amounts of dishes.  Even if the recipe is simple, the fewer bowls and measuring cups and spoons and what-not that I have to clean up after, the better.   When you're making a bare bones, easy as it can possibly get, pasta and jarred sauce dinner, you have two pans that you're dirtying, right? One for the noodles and one for the sauce.  But then you also have the colander to drain the noodles.  Or maybe you're skilled enough to just offset the lid and use that to drain the water, but that's still a lid you have to clean.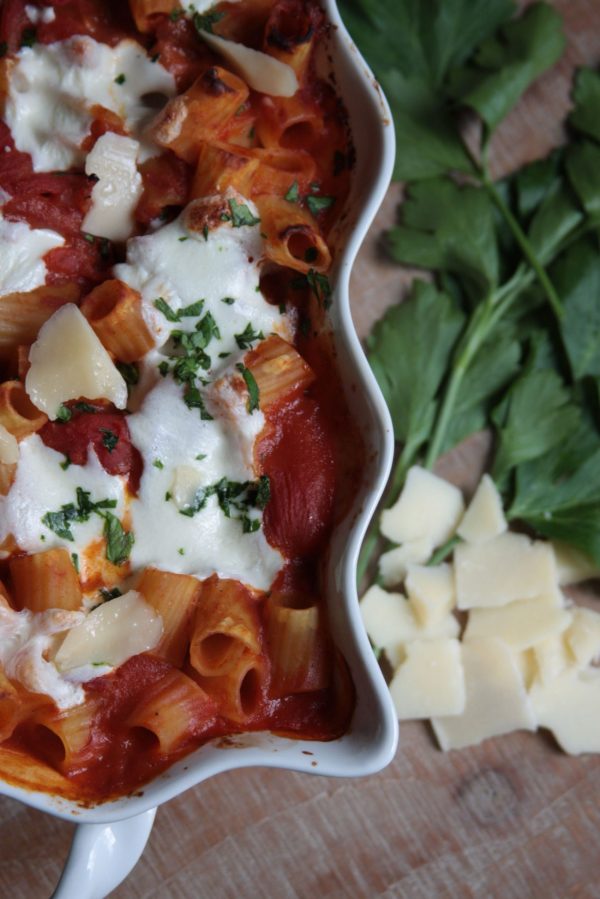 Then there's the lid to the sauce, because otherwise you're scrubbing sauce splatter off of your stove for the next week.  So now we're up to two pots, two lids and a colander. Maybe I'm being a bit nitpicky, but even though I think of pasta as this super simple dinner, I always find myself washing what feels like a TON of dishes afterward.  No more, my friends!  Now that I know this method works, I don't think I'll ever go back to boiling pasta separately again.
There is also the sauce to pasta ratio issue.  Does anyone else ever have the problem where you boil some pasta and then heat up the sauce, but there never seems to be enough sauce for all of the pasta?  Worse yet if you try to save space when wrapping up the leftovers by combining the noodles and sauce, and you go to reheat the last of the leftovers, all you have are noodles with a few sad drops of sauce clinging to the sides of the dish.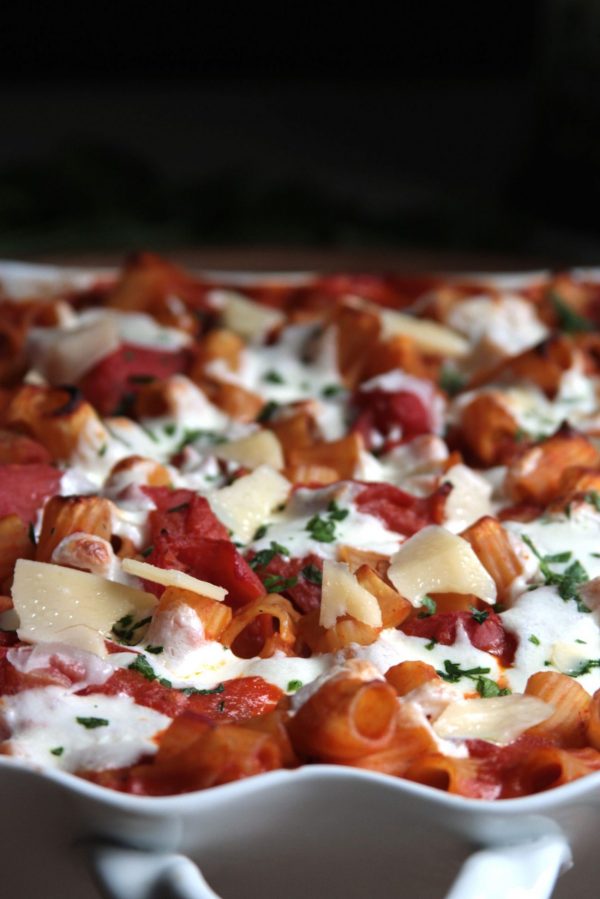 It just seems that if you're getting the most common size of noodle packages, a 1 pound package where I shop, you should be able to buy a jar of sauce that's big enough to cover all of the noodles.  The 24 oz jars just don't cut it.  Even the family size jars aren't really enough.  Maybe I just have a preference for way more sauce than noodles.  I mean, I LOVE noodles of all types but to me, the noodles are about texture and it's the sauce that carries the bulk of the flavor.  Plus, in many cases. the sauce is much healthier for you than the carb-filled noodles. so having more sauce is not only tasty, but it can help you get more of your veggies in too.  Not that I've ever been overly concerned about my carb consumption.  I mean, have you seen the rest of my recipes? ;P
This recipes solves all of those problems.  It truly is only one pan you're dirtying, the noodle to pasta ratio is perfect (leaning towards my preference for more sauce) and to top it all off, it's mostly hands off, it's super versatile and it's finished with golden, bubbling, cheese.  Sold!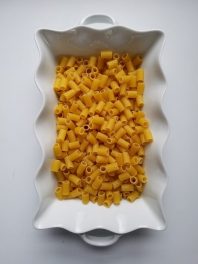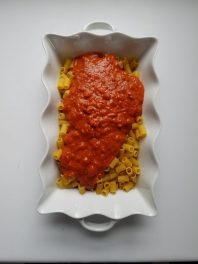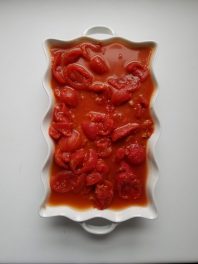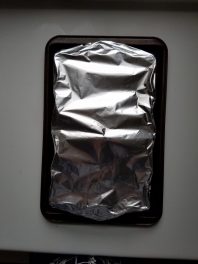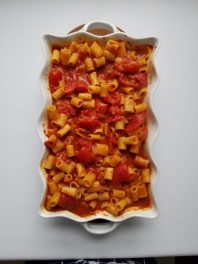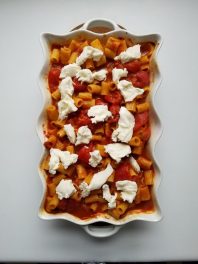 Half the work and double the presentation value. Use this easy, customizable recipe to make delicious pasta, baked completely in the oven. Because I intended this recipe to be as easy as humanly possible, I've used jarred sauce and canned tomatoes but you could very easily swap those out for homemade sauce and fresh tomatoes if you prefer. Just add an extra 1/4 cup (2 oz, 59ml) of water when replacing the canned stewed tomatoes.
Preheat oven to 450 degrees. Pull your mozzarella out of the refrigerator so it is soft and easy to tear apart by the time the pasta is finished.

In a 9x13 baking dish**, layer the noodles, sauce, then stewed tomatoes and water on top. Do not mix. The noodles need to stay at the bottom and be completely submerged so they will cook properly. I also lightly salted the stewed tomatoes on top. If your stewed tomatoes are not already salted and seasoned (check the ingredient list on the can to see if they're seasoned) you may want to add some oregano/basil/other Italian seasoning.

Cover the pan tightly with tin foil. Place on a rimmed baking sheet for easy clean up in case the sauce should bubble over. bake for 35-50 minutes, depending on the size of your noodles. The thinner the noodles, the less time they will need. I used canneroni noodles, basically small rigatoni tubes, and it took the full 50 minutes. Angel hair would likely take only 35. You're looking for the sauce to be bubbling and the noodles to be al dente.

Remove the foil and carefully stir everything together. Tear up the mozzarella ball and place the pieces evenly across the top of the pasta. Return the pan to the oven, uncovered, and bake for another 10 minutes or until the mozzarella is melted and slightly browned.

Garnish with shaved Asiago and freshly chopped parsley.
* I don't recommend using excessively large noodles as they won't be completely covered by the sauce and tomatoes, so they will not cook properly.  Most noodles will work fine but I'd stay away from the wide cannelloni or anything wider than 1 inch across.
**I recommend using a 9x13 pan because it's a size most people already have in their kitchen.  In the pictures, I used a deep 7x15 pan I found on sale at Meijer, and you can see it is filled almost to the rim.  Be sure you use the deepest pan you have.
Inspired by Half Baked Harvest.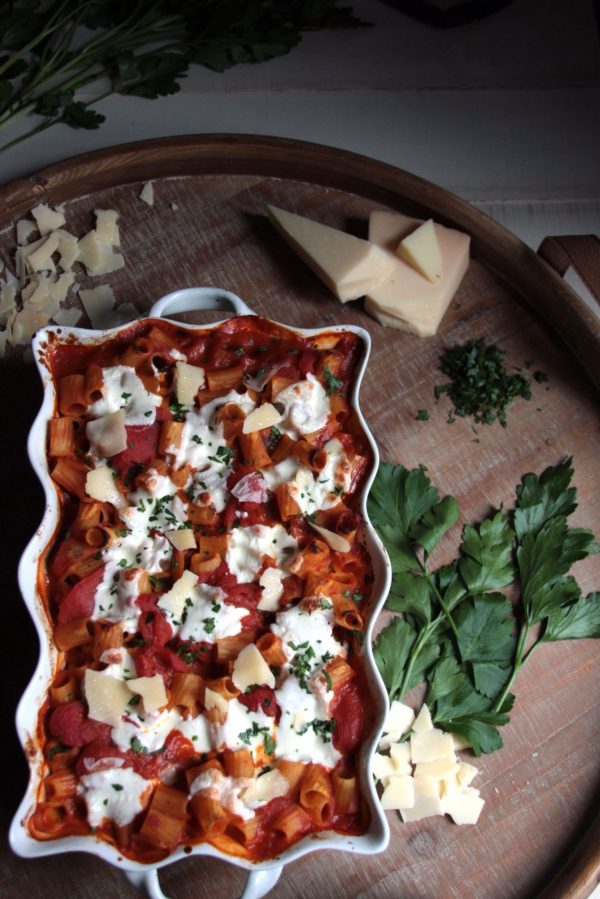 Easy as pie…actually, EASIER than pie. ;P  Do you ever have a problem with running out of sauce before you've eaten all of the noodles?  Does anyone else hate cleaning the sticky noodle pot, or is it just me?  Do you have a favorite brand/flavor of jarred sauce or do you make your sauce from scratch every time?  Comment below!