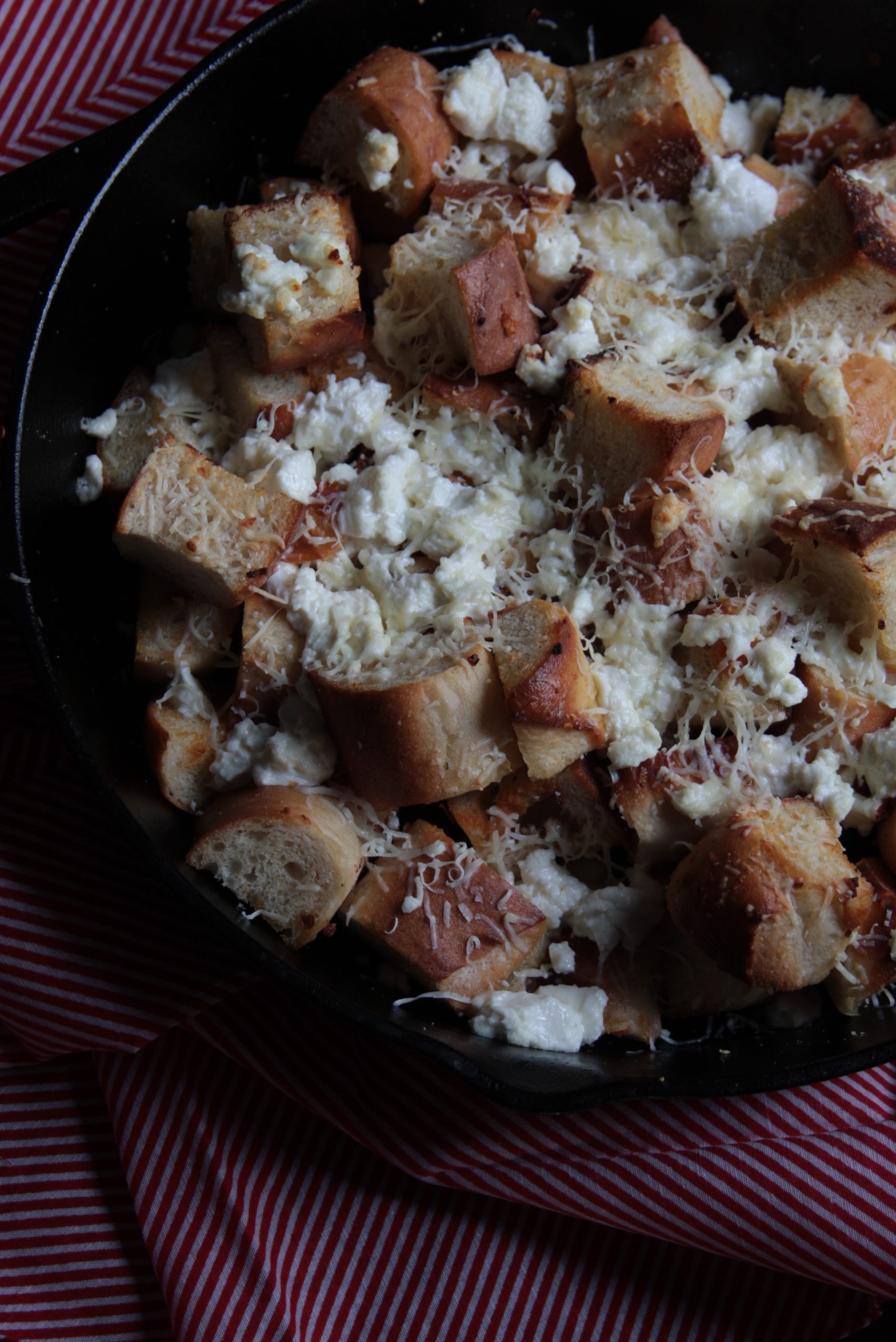 What happens when my love of bread, cheese, cast iron and game night snacks combine?  Totally awesome cheesy skillet bread happens, that's what!
During the weekly game night we host, everyone tends to arrive over the course of about half an hour or so.  Sometimes I try to put something out for the first wave of people to munch on while we chat and wait for the rest of the group.  This isn't always possible depending on how behind I am with preparing the main meal (and I'm pretty much always behind).  Meat, cheese and cracker boards have been popular in the past.  Baked brie went over really well.  Then I tried one of those loaded cheese loaves where you score the loaf of bread and stuff the cracks with cheese and butter and what have you.  It was really good taste wise but it was kind of hard to tear off chunks of bread when eating it.  They were still attached to the bottom crust and of course there is melted cheese and butter everywhere so you're trying not to make too much of a mess.  Also, while it didn't take hours or anything, it does take a good chunk of time to cut everything up into perfectly thin pieces and stuff them in the dozens of cracks in the bread.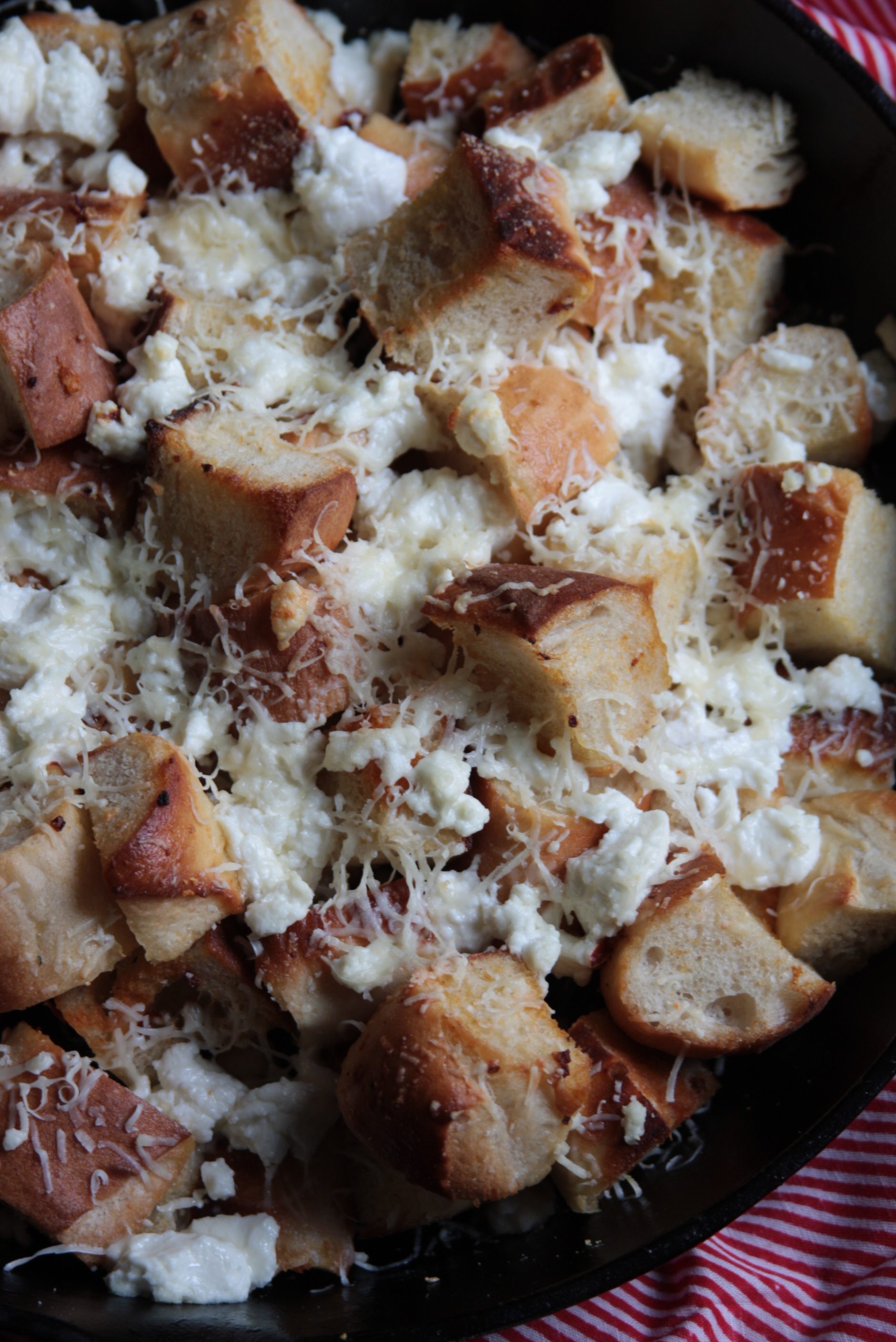 So that got me thinking…what can I put together that would include cheese and bread, would be hot, but would be easier to eat and faster to make.  Enter cheesy skillet bread.
I love this recipe for so many reasons.  First of all, it meets all of the requirements above.  I mean, it's cheese and bread.  Two of the most glorious things on the planet.  I also get to use our cast iron skillet, which I love more the more I use it.  To top it all off, this recipe is insanely flexible.  Don't have the right kind of cheese?  Use whatever kind you have on hand.  Have leftover bread from a few random loaves? Throw them all together, they'll be delicious.  Have a craving for something sweeter?  Swap out a few ingredients and turn it into a dessert instead.  It's really the chameleon of all appetizers.  Dig through your fridge and I bet some of the randomness in there can be put into this dish and be awesome.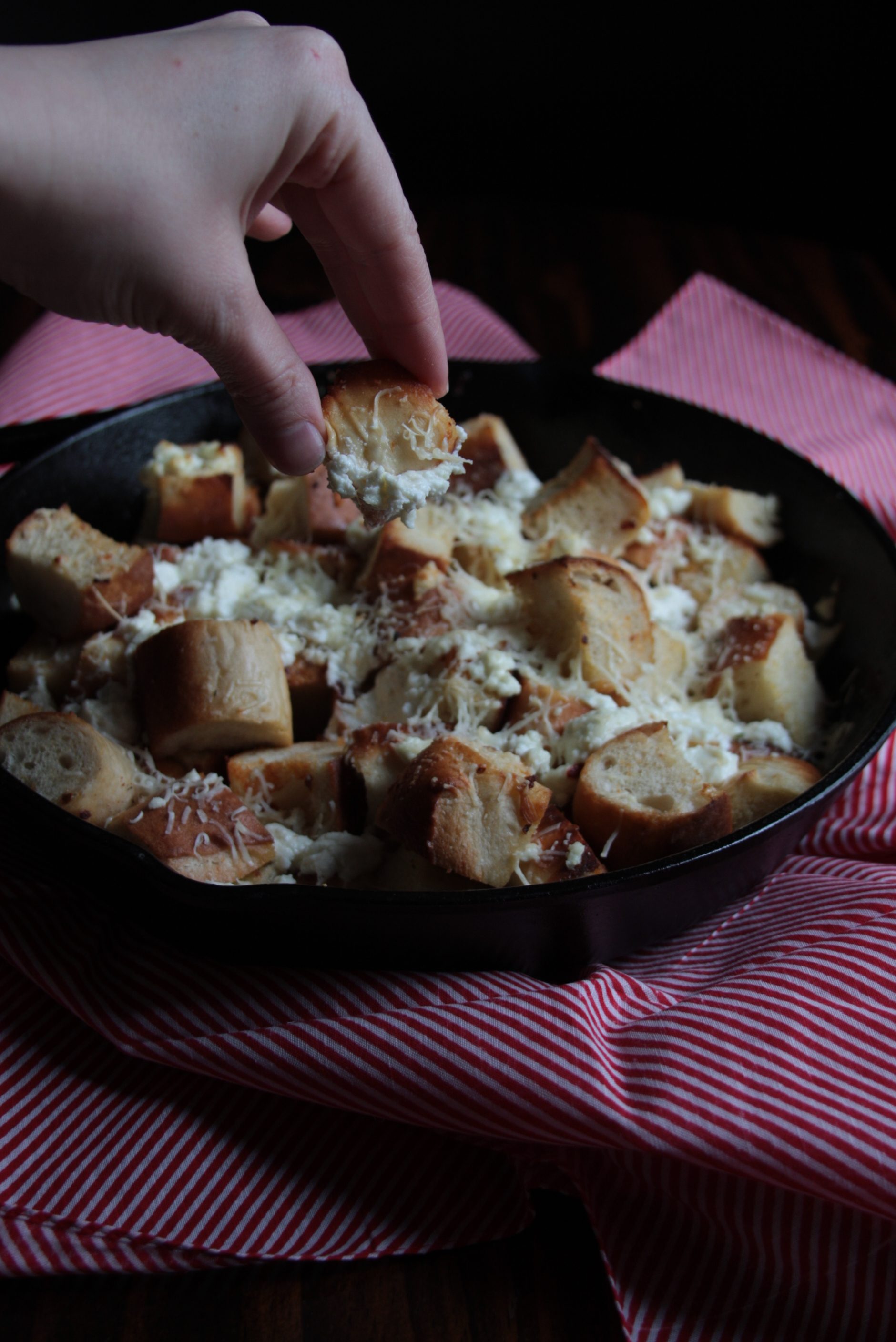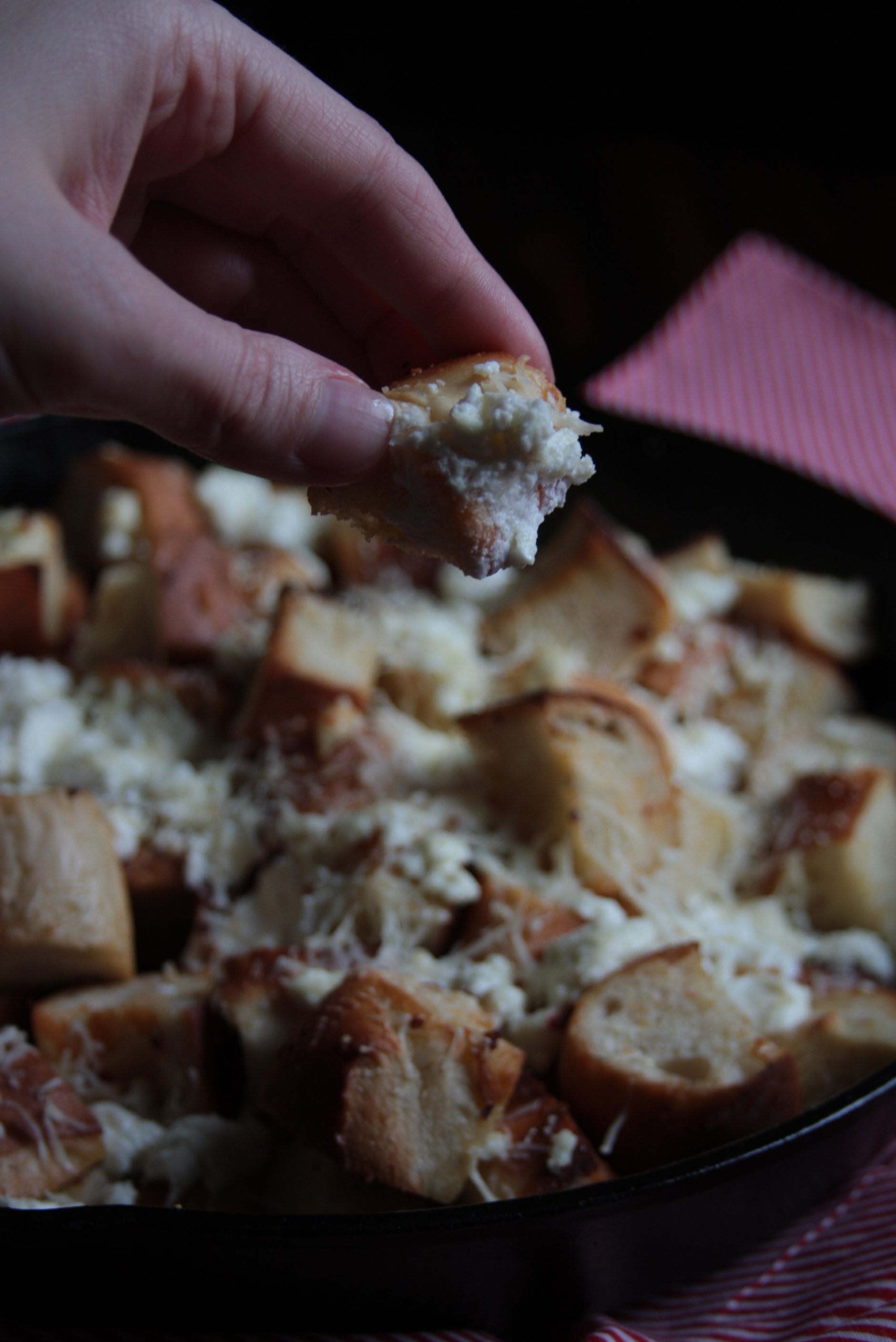 The base recipe listed below has been my go-to because it's how I made it the first time and I just got through the chipotle peppers in adobo sauce I was trying to use up.  It's really a killer combination with the creamy goat cheese, spicy peppers and salty Parmesan but just to give you an idea of how flexible this recipe is, I've listed a few other alternatives in the "Recipe Notes" section, just using what I have in my house right now. And I'll be honest, even though I've listed this as a snack or appetizer, We've eaten it as a meal on more than one occasion.  Comfort food to the max.
Preheat oven to 350 degrees.

Slice the bread into approximately 1 inch cubes and pile them into a 10-12 inch cast iron skillet or any skillet that can go in the oven.

Finely chop up the chipotle peppers. You'll definitely want to wear some sort of food prep gloves* when chopping them and especially for the next part.

Drizzle the olive oil and sprinkle the chopped chipotle peppers over the bread. Then, while wearing food prep gloves, massage the oil and peppers all over the bread until the cubes are evenly coated on all sides.

Crumble the goat cheese evenly over the top of the bread.

Sprinkle the Parmesan cheese over the top of everything.

Bake for 15-20 minutes or until the edges of the bread cubes begin to brown.
This is what you're looking for for the chipotle peppers.
I highly recommend you wear food prep gloves like these when chopping and mixing the pepper into the bread.  No matter how much you wash your hands afterwards, picking your nose becomes a burningly painful process for hours afterward. 😉  Rubbing your eyes is also less than enjoyable.
Variations
Ricotta, honey and dried fruit.  Still massage or toss the bread in olive oil then crumble ricotta, sprinkle fruit, bake and drizzle with honey.
Mozzarella, pesto and pine nuts or sun dried tomatoes.  Massage the pesto into the bread, sprinkle with mozzarella and pine nuts or tomatoes and bake.
Smoked Gouda and prosciutto.  Still toss bread in olive oil then sprinkle with Gouda and torn up pieces of prosciutto.  Then bake.
Spinach, artichoke and cream cheese.  Mix cooked spinach with cream cheese.  Roughly chop artichoke hearts.  Still toss bread in olive oil, sprinkle artichokes over bread, drop spinach and cheese mixture in small dollops all over bread and bake.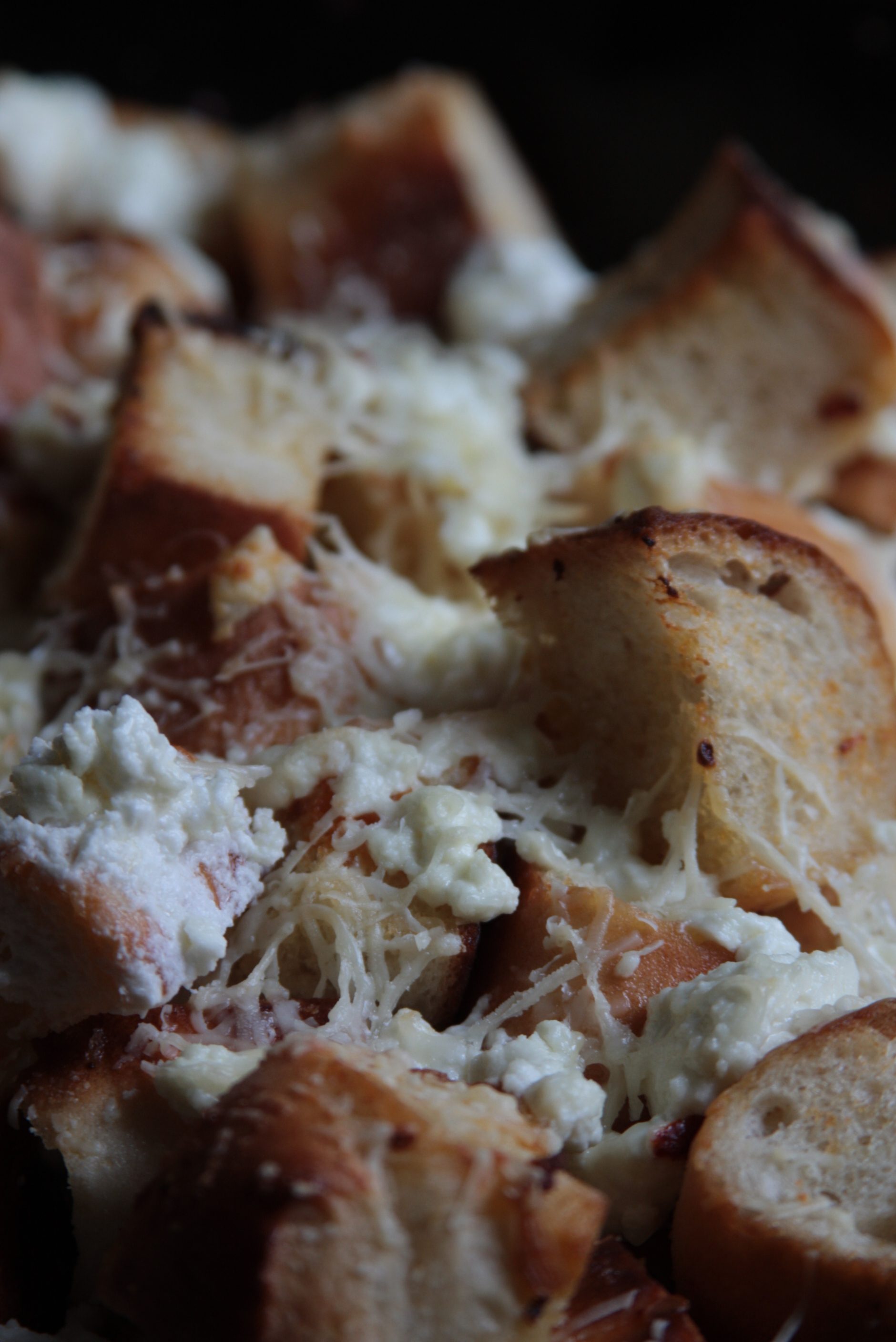 So dig through your cabinets and fridge.  What combinations can you come up with?  Is it just me, or does anyone else always have a ridiculous amount of cheese in their fridge at any given time?  Comment below!